Whisky and poetry lovers across the world are today celebrating the life and work of iconic Scottish poet, Robert Burns.
To mark the event, Loch Lomond and Glen Scotia Single Malt brand ambassador Ibon Mendiguren has crafted a selection of classic cocktails with a twist for Burns Night 2018.
Ibon said: 'We have created an array of inventive Loch Lomond and Glen Scotia Single Malt cocktails for Burns Night this year, taking inspiration from traditional classics and updating the recipes with a modern twist.
'Loch Lomond distillery's unique combination of straight neck and traditional pot stills enable it to craft three distinct 12 year old whiskies with a variety of flavours, from light and floral to heavily peated with a hint of spice, creating endless opportunities for cocktails to suit different tastes.
'Mountain Daisy is a nod to one of Burns' great poems and is a classic, refreshing style of serve while the Old Fashioned and Penicillin cocktails are wonderfully warming, perfect for a Burns' celebration.
'The Proud Mary cocktail pays tribute to Robert Burns' love interest, Mary who lived opposite the Glen Scotia distillery in Campbeltown and was born and bred in the town. The Glen Scotia Double Cask is one of the sweetest Glen Scotia expressions, matured in first-fill bourbon barrels before being finished in Pedro- Ximénez sherry casks, providing the perfect balance of spicy fruits, sea spray and vanilla.'
A Proud Mary
Proud Mary
50ml Glen Scotia Double Cask single malt
15ml honey water
15ml Pedro Ximénez sherry
Dash of orange bitters
Orange zest to garnish
1. In a mixing glass, add 50ml of Glen Scotia Double Cask
whisky.
2. Add the 15ml of honey water and Pedro Ximénez sherry.
3. Add a dash of orange bitters and stir well to blend the
flavours.
4. Pour into a coup glass, garnish with orange zest and serve.
Loch Lomond Old Fashioned
Loch Lomond Old Fashioned
50ml Loch Lomond Original Single Malt whisky
Angostura bitters
Plum bitters
Brown sugar cube
Ice
1. In a mixing glass, soak the sugar cube in a few drops of Angostura bitters.
2. Add a splash of Loch Lomond Original and muddle the ingredients together to create a loose paste.
3. Add ice cubes and stir well to blend the flavours. Fill the metal piece of a cocktail shaker with cold water and place the mixing glass inside to keep it chilled.
4. Add more ice and the rest of the Loch Lomond Original and continue to stir.
5. Strain the cocktail mix from the mixing glass into a chilled glass with ice and add a couple splashes of plum bitters.
6. Garnish the cocktail with a twist of orange peel and serve.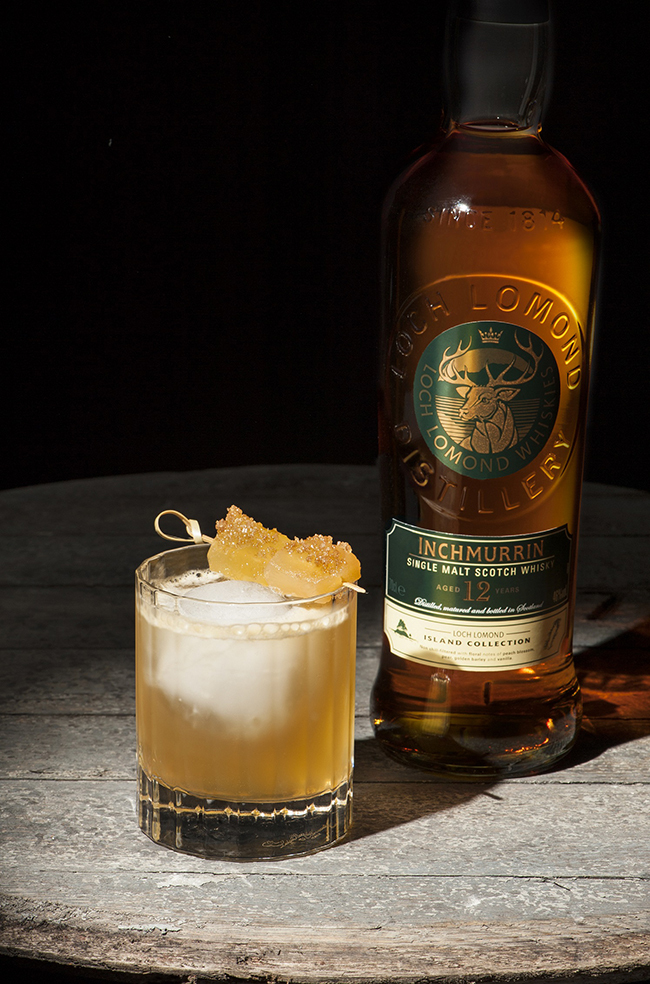 The Inchmurrin Penicillin
The Penicillin
50ml Loch Lomond Inchmurrin single malt
20ml honey and ginger syrup
20ml fresh lemon
2 bar spoons of Inchmoan whisky
Ice
Candied ginger
1. In a mixing glass, add ice cubes and the 50ml Inchmurrin whisky.
2. Add 20ml of honey and ginger syrup and 20ml of fresh lemon, then stir.
3. Pour the mix into a chilled rocks glass and top with two bar spoons of Inchmoan whisky.
4. Garnish with candied ginger and serve.
Inchmoan Mountain Daisy
Mountain Daisy
50ml Loch Lomond Inchmoan single malt
25ml fresh lemon juice
15ml elderflower cordial
Soda water
Crushed/cracked ice
Lemon twist
Mint leaf
1. In a mixing glass, combine the Inchmoan whisky, lemon juice, elderflower cordial and ice and stir.
2. Pour the mix into a small wine or rocks glass with crushed or cracked ice.
3. Top with soda water, and garnish with a lemon twist and mint leaf.
[contf] [contfnew]
[contfnewc] [contfnewc]