Gantz, the leader of the Blue and White party, declared victory, arguing his party was on track to becoming the largest in the Knesset. "We have 33 seats and Netanyahu could not get his bloc," said Gantz in Tel Aviv, speaking before a faction meeting of his party. "Therefore, Blue and White, headed by me, won the election." But his likely center-left coalition partners, combined with the Arab Joint List, still fall short of the 61 seats needed to govern, setting up the possibility that — once again — Gantz declared victory too early. In April's election, shortly after the first exit poll was released, Gantz stepped on stage and announced he had won, only to find out that his declaration was premature. The exit poll was completely wrong.Echoing his calls from the campaign trail, Gantz called for a unity government, saying he wished to bring his Blue and White together with Likud, but without Netanyahu, as ongoing criminal corruption probes hang over the long-time Israeli leader — allegations he denies.Meanwhile, Netanyahu, although not declaring victory outright, said he would be the leader of a unity government, inviting Gantz to meet with him to begin discussions."Now, I am calling on you, member of Knesset Benny Gantz: Benny, it's upon us to form a wide unity government even today. The country expects of us, from the two of us, that we assume responsibility and that we will work together," Netanyahu said in a video statement earlier Thursday.
No clear end in sight
The 69-year-old Israeli leader spent the entire campaign tarring Gantz as a weak leftist, but without a governing coalition of his own, Netanyahu has few choices but to turn to Gantz for support. Although projections show Netanyahu one or two seats behind Gantz, Netanyahu united the ultra-Orthodox and religious Zionist parties under his leadership, attempting to position himself as the political leader with the most unified support. But his prospects for reaching the 61 seats necessary to form a government were no better than Gantz's.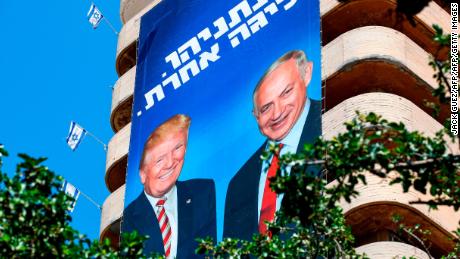 With neither side showing any willingness to give ground, there seems no clear end in sight to the political deadlock."One person is preventing the formation of a liberal unity government. One person," said Yair Lapid, co-leader of the Blue and White party, in reference to Netanyahu. "When faced with the choice between what's important for the country and what's important for one person, the country comes first," he said.Forty-eight hours after the second election in five months, the country's leaders already began warning about the possibility of a third election."I will do everything I can to prevent another general election," said President Reuven Rivlin, who has the job of appointing a political leader to form a government."But the responsibility for this, as well as the responsibility for forming a government that serves all the citizens of Israel with the dedication it deserves, is yours," said Rivlin Thursday morning, addressing Netanyahu and Gantz at a ceremony in memory of former Prime Minister Shimon Peres. "Our current situation, which has gone on for a long time, with a transition government, grievously limits the ability of the government to act and Read More – Source